Oprah Winfrey inspired me with that phrase in high school. And while I have been reaching for my dreams ever since, I have never wanted to succeed at something so much as what you're about to read below.
Amina reached out to me on Facebook after "loving" a comment I made on a Humans of New York post:
"hi I see that you're a very kind person. while everyone else was busy wishing him well you made an effort to actually help."
After becoming friends for a few days and enjoying each other's posts (something I rarely do with random people who contact me from overseas), she started asking me about my recent community work with homelessness, specifically, "How do you get politicians to be human?" She seemed very interested, ending with: "Godwilling I shall succeed."
After some discussions, she shared a link to a disturbing BBC documentary  about religious healing centers in Kenya that claim to "rehab" people from drugs and mental illness, but they are little more than profit centers that are used to falsely imprison and abuse people. Beatings, whippings, solitary confinement, drinking poison to cause severe vomiting or "cleansing", are all tactics used on prisoners to break them down.
Devastatingly, she revealed that she had been sent to one of the rehab centers shown on the BBC documentary in 2018, at the age of 28. There was so much public outcry that prisoners were eventually released; however, she was released back to the family that sent her there. Now the police want her to testify against her abusers, and she fears she will lose her shelter and safety as a result.
Please help me share or donate ASAP to give Amina a chance at a better future.
Here is the story in her own words (I have made some grammatical corrections for easier reading):
"It was the end of April 2018. I finally had all the money I needed for my tonsillectomy. I knew there would be consequences for me, but I had to have the surgery. You see when I was a baby my mother took me to a traditional doctor and he burnt my tonsils inside out. I'll send you the pic. This caused a lot of health issues for me. My half-sister (who is far better off than I am thanks to her father), after years of begging, gave me the money for the surgery.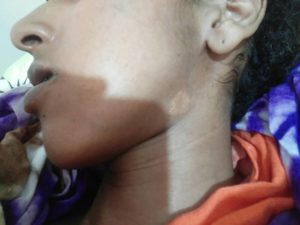 I snuck out early morning the next day, it was first of May. Went to the hospital, payed the admission fee, and went to the ward. I had my surgery and went back to that house the next day on the second of May, at noon. I knew they'll be consequences, so I braved myself.
My mother called the police on me. She first had to play some mind games. She called me and I went over to where she was. She made a phone call to my father. She told him that I had killed myself. I didn't get alarmed or anything as I was used to it. I went back to what I was doing after a while she called me up again. She said that I should go and open the gate.
There was a young man there called Hussein. He and two police men forced me into their car. I was terrified. I begged but no one listened. My mother got in the front seat and we left for Al Mustaqim, an Islamic centre disguised as a drug rehab center. On arrival they took me to the back where the men are kept and into a dark empty room. I stayed there for a while, but thanks to some of the other captive women I was released and brought to my new prison.
The first room you saw with the many bunk beds in the documentary was where I stayed up until August. They told me I wasn't going anywhere so I begged to at least have my medicine, but it wasn't until Friday that I got the medicine the doctor had prescribed for me. I had bought it already, but mother refused to bring it for me. I kept begging until she finally did, three days after she had me locked up in there. Tuesday, Wednesday, Thursday, and Friday. I hadn't eaten as all the food was hard and spicy.
The pain was unbearable and inflammation made it difficult to breathe and swallow. I want to say it's the worst I've ever been through but that would be a lie. On top of that I got viciously bullied by the other ladies. Just like you saw the kid, Ali, being treated.
No sanitary pads. We were ten women in one small room 24/7, nowhere to go. After all the horror of living like this for months the police came to our rescue. It was after international condemnation because of this BBC documentary . It was made months before I was brought there, but stayed on the editor's desk until by the grace of God it was aired. I personally thanked the journalist, Jamal Osman, on fb.
Right now I have the police on my tail and the reason is they want me to testify against the one they called sheikh Hussein, but that's not his real name. Most of the men there used Hussein as their alias. My case is tight, so they demand that I testify. I explained to the unsympathetic police officers that I won't have anywhere to go after I tell the court what was done to me, but they don't care. The courts are back from recess and I will soon be summoned. Failure to appear means I go to jail."
**********
I asked her: Is this the cause you would like to see changed in your society? These "rehab" centers?
She responded: "Yes this and all other forms of gender-based violence being openly practiced, Godwilling."

She confessed she has considered suicide, but that she grew up believing that she would end up in hell, "so I didn't do it, much to my family's disappointment." She currently lives in the servants quarters of the family home.

"I just want to break out of these shackles. Like Wonder Woman."
"Thank you for understanding there are no people here who I can talk to. I carry these burdens alone." She ventured, "I thought about doing a fundraiser but I don't know anyone who will trust me enough to give me their money."
I told her I could start a GoFundMe for her. "omg. My social anxiety is through the roof just the idea scares me but it has to happen."
I asked how much she would need, and she said that land in Kenya costs up to eight thousand dollars and building a house costs about three to four thousand. She says she can live off the land and do poultry.
"A chance is all I want."
Please share and/or donate ASAP to give Amina a chance at a better future.
**********
Our first goal is $15,000 to help Amina be self-sufficient. Any funds raised up to $25,000 (after fees & taxes) will be given directly to Amina via Xoom (a PayPal company), as soon as the funds are available.
Any funds raised above that amount will go to non-profit organizations (or toward starting a non-profit organization) that will work to eradicate gender-based violence and give women chances for a better life.
**********
This was not an easy thing to post. Amina has shared all this information privately with me and has approved the language of this fundraiser. She has provided me with her full contact information, identity document, photos, medical receipt and documentation surrounding her tonsillectomy when I asked for them. I will share some of this once I can do so in the right way to properly protect privacy. I have contacted other contacts she has interacted with on Facebook to ensure she is not just simply asking any American she meets for money. I have taken every step I can think of to validate the information she has entrusted me with and put online, and I post this with tears in my eyes, love in my heart, and conscious of the personal and professional risks I am taking to vouch for a stranger halfway across the globe. And I am also acknowledging the risks Amina has taken to reach out to someone for help at this critical time in her life. She will provide us updates on her progress.
Thank you for caring. Let's show her there are people who care.
If you are not able to give anything perhaps you could leave her an encouraging message or share her story.
#AChanceforAmina