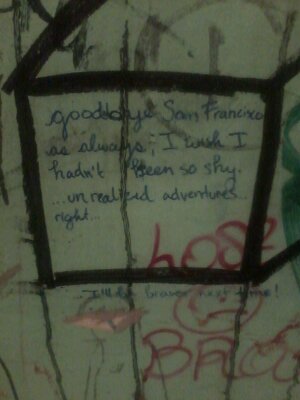 "Goodbye San Francisco…as always, I wish I hadn't been so shy…unrealized adventures…I'll be braver next time!"
A great big guy sat next to me on the BART tonight. He smelled terrific, like clean and just a light, slightly sweet scent. I felt like telling him, "Wow! You smell terrific!". Then this little voice told me all the reasons I shouldn't say anything to him. I obliged at first, then got brave. "Thank you!" He said proudly, "It's an oil, Happy by Clinique." He was like a big teddy bear.
During my brief silent pause, I thought of the woman(?) who wrote the above words on a bathroom wall I photographed last week (Philz Coffee, Mission). Reflecting on my six years in the city, I've become quite brave (reference Folsom Street Fair and this year's Pride Parade), but I can always be braver. We can all be braver in pursuit of a life lived without regrets of what we could have experienced if we hadn't been so shy.
I lost a bit of my natural ability to connect with people living in the city and riding bus in the Mission all the time. After a couple times trying to chat with people who didn't speak English or just ignored me, I probably went into my shell a bit more than felt natural. I'm getting back to my old self slowly but surely, and it feels great :)
Even met a Bozeman family transplant today at church and a Canadian on the BART.
Excelsior! (Ever upward)