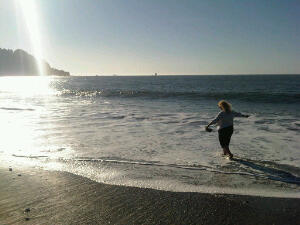 I'm feeling so blessed to have my cousin visiting this week. It was so gorgeous out today, normally I would have just stayed in, but instead we went across the Golden Gate Bridge, down to Baker Beach (I hadn't been in 5+ years) and drove down the Great Highway. The views were absolutely stunning, esp. of the vast shimmering ocean water with sailboats from the bridge. Air temperature was perfection, with just a slight humid sea breeze.
Watching her reactions to things helped me appreciate the city all over again. For example, wondering what all the overhead lines were for (electric bus power lines). Stuff I see daily but don't register as being unique anymore! I imagine this is what raising children must be like. Getting to experience the fun all over again, deepening and enriching your own experience.
On another note, I also have to say that giving up my habit of implied or forced monogamy has made me infinitely happier than I have ever been in my relationships. I'm much less a head case and just enjoying the (slow) process of getting to know my boy friends as time goes on. It really wasn't serving me to commit to relationships that weren't first grounded in friendship, trust, time, and experience. And this way I get to taste more flavors before settling, a priceless bonus that I am madly enjoying. Guess 30s really is prime time, haha.