I did it!!! Following up a year of writing a poem a day, I have successfully completed 365 days of no shampoo/no conditioner! Thanks to the renegade Paul Makepeace for the inspiration. I might add, much to the skepticsm of almost every person I mentioned it to who has never tried this, and the chagrin of new lovers who suspect I must be some kind of dirty hippie but can't find the physical evidence.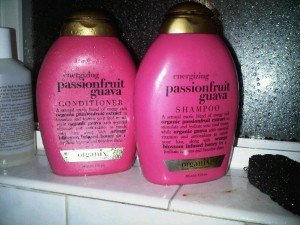 These are the pictures of the shampoo/conditioner bottles that are still sitting on my shower ledge, bought in September 2010. My last day of shampooing was December 6th, 2010.
So, what are the results, you might ask? Mixed, for now.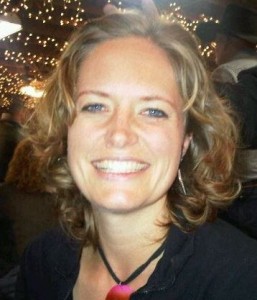 Judging from this very recent picture of me, I'd say my hair is doing just fine! A little heavy at the roots, but healthy all the way through to the ends, and looks perfectly grease-less/dry whenever it's curled or blow-dried.
Just in the past couple of months, however, I have noticed a bit of buildup on my scalp that comes off waxy on the hairbrush and starts to make my scalp itch. My hypothesis is that this is what happens when the hair is not brushed/scrubbed/rinsed with hot water every single day. When I skip a day, the buildup is noticable. It didn't seem to be as much of an issue when my hair was even 2-3 inches shorter. Or, maybe it's because it's been colder and I've been wearing more hats lately.
Not only have I not been chemically stripping my hair, but I've been growing it out in the past year. I have a TON of hair, so I suppose it makes sense that the longer it gets, the more work it will be to distribute the oils all the way through and prevent yucky buildup.
Me in December 2010, one year ago, with brown hair: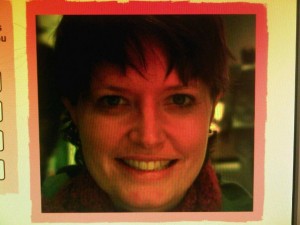 Not sure how much longer I will continue this. My friend Kali Brothers has a great home recipe for a lavendar vinegar shampoo that I might just turn to if I can't seem to religiously keep my scalp clear over the next couple of months.
It's no wonder I find myself experimenting on my hair again. It's a trait of a Leo rising astrological chart to have hair be of high importance to an individual. And by importance, I mean obsession. I am embarassed to admit that both my award-winning sixth grade science fair project ("How Strong is Your Hair?") and literal last-minute copout high school science fair project ("How Strong is Your Hairspray?", remember that Beth Lodahl? You should be ashamed too! Wait, aren't you a hairstylist now?) were hair-centered. My 8th grade shop and history teacher unoffically nominated me for "best hair" for the yearbook, and during college almost-strangers remarked how my ever-changing hairstyles have bettered their lives. If that wasn't a sign I was hair-obsessed perhaps the small patch of missing hair at the center of my scalp in the 8th grade should have been a sign, well at least it was to me! A trich was born. Friends tried throwing things at me to get me to stop picking at it (hard candy doesn't work, Gunner!), strangers on airplanes give me unapproving head shakes, it's a  bad habit.
I kept my hair short, pixie-short mostly, over the past 10 years. Pretty much for 2 factors: I am more efficient when I'm not obsessing over my hair. I can actually get stuff done and don't spend hours picking at my hair for split ends or styling it, etc. Plus, my forever boyfriend liked my hair short. Thought it suited my face better or whatever. I think he might have secretly wanted me to look like a boy so he could own me, but, whatever. I'm not bitter or anything.
But, to signify an end of that relationship/era, and a return to my more feminine, longer locks, and to please a certain loverboy I fell hard for (ref. paragraph 1), I decided to grow, grow, grow my hair as l0ng as I can stand it. Mom is thrilled, so am I. I had recurring dreams of having beautiful, long, flowing hair when my hair was pixie short, guess that was a clue I really missed my long hair. It was just easier to manage short.
'nuff said for now. Will give another update in a couple of months!