Wow! What a year! I thought it would be fun to look back at some highlights from this year, to reminisce and catch up those of you I don't get to see often enough :-)
2012 opened for me with a bang, at midnight watching fireworks 360 degrees around me on a rooftop in London, decked out in a flamboyant costume party dress, drunk enough on mulled wine to feel warm instead of cold, and in the company of some fabulous and fun human beings.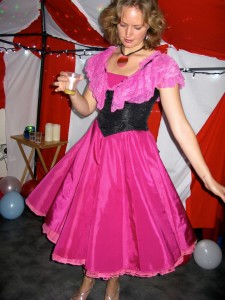 My 9-day trip to London with a very special friend and lover was wonderful and insightful. We learned that living together wasn't going to be in our immediate futures :-) I got to spend about 3-4 hours/day touring the city, visiting museums, met up with a Chevron colleague and his wife for dinner, got to peek around the Olympic stadium in East London while under construction, and stayed at Cambridge. It was really magical.
Returning home in January, I spent much of the month doing live interviews of Olympic track and field throwers for a project I created called the Powerful Women Athletes Telesummit. About 200 people tuned in over the month and it was a really amazing experience that allowed me to give something new to my sport in a big way.
It was my 5th year coaching at San Francisco State University, and my fourth year with athletes Deirdra Bridgett and Luisa Musika. They were my first group of athletes to have been coached by me all four years of their eligibility so that was pretty special. In February, I decided to do a radical experiment with the throwers that dared to: Go six weeks without eating wheat, dairy, or sugar. Two of us made it 5 weeks, and during that 5 weeks, my athlete Luisa lost 30 pounds and qualified for the indoor national championships in the shot put for the first time in her career. It was so brave of them to try something so difficult and I think we all learned a lot from that experience. I got to travel to Minnesota with Luisa for the indoor national championships and I really enjoyed taking the Californians out to a nature area on one of our days off to experience walking around in the snow and throwing things onto an icy river :-)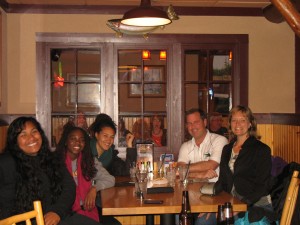 We had a challenging outdoor track and field season with the weather: A lot of rainy meets, some even got cancelled part-way through. It is difficult to stay motivated when you are soaking wet to the bone as part of your job, but we hung in there and continued to do what we love despite the difficulties. It was also my first year coaching the javelin throw event and I really learned a lot from my athletes.
My coaching job doesn't pay all my bills, so I continued to work other jobs part-time. I did a lot of special-event valet parking jobs this year around San Francisco, and got to see some of the most beautiful properties, drive some of the nicest cars, and work at the most exclusive parties in the bay area. I met so many amazing people who work as valets. Many are students, but many are people sort of like me! People who have incredible qualifications and have had really interesting lives and have found themselves starting over in some way. I am so grateful for all the awesome people I met at that job.
I taught 6-week intro to yoga courses for some private clients. I gave some more massage virgins their first ever full-body Swedish massages. And I helped at least three people move out of their houses to get started with their next life chapters. I decided to help out more at church and went to training to become a Sunday school teacher. That has been very rewarding to shepherd some young people through their high school years in a way that was starkly different than my own (in a good way). And I tried a short stint as a gogo dancer.
I take random jobs too, and my good friend Diane found the most awesome random job for me one day this year: Getting paid to model as a zombie and walk around downtown San Francisco handing out "blood" popsicles and stickers to random people to promote Zynga's new video game.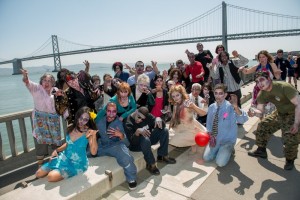 I made a light-painting video with my friends Jackie & Julian that helped them get onto America's Got Talent! It was superfun and as a result I got to meet their new friend Andrew de Leon and recycle my zombie dress to do a photo shoot with him for his promotions.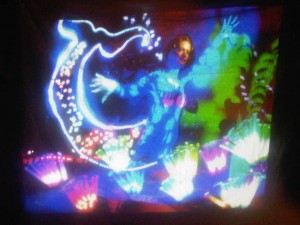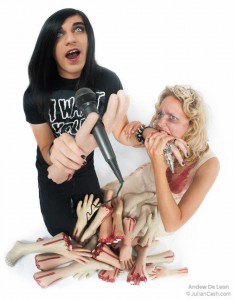 I continued to take lots of people on hikes through my part of the city as part of my business "Excelsior Urban Hikes." I met so many wonderful people from around the country, around San Francisco, and around the world who somehow found out about my tours. It was great to be able to walk around in beautiful nature areas within San Francisco to get good exercise, fresh air, and beautiful scenery. The city started to look a lot smaller than it did when I first showed up here 6 years ago.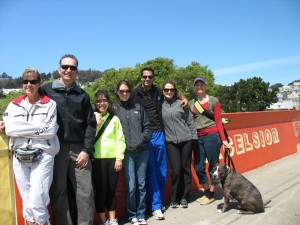 I watched the solar eclispe from China beach in San Francisco while on a date with a Cancer. This was astrologically significant given I'm an Aries ;-) I also dated a somewhat mysterious and handsome academic professional Indian man for a couple months who enjoyed spoiling me with 5-star accommodations, fabulous dinners, and day trips. I've since renewed my vows to stop dating men who drive Porsches. Nothing personal ;-)
During the summer I recommitted myself to my LegalShield business as a way of earning part-time income. I attended a lot of trainings and continued to be inspired by that company and the great attitudes of the people who I befriended at the trainings. I joined a networking group to promote the company and fell in love with the awesome people I met at that group. We meet at least once a week to help each other find business, and those relationships have been very rewarding.
I took several more 4-week courses in astrology, did my first "paid" astrology reading for a friend. Went to my first 49ers game. Got to go to Montana to coach a high school throwers clinic while my college coach attended the Olympic Trials with one of his athletes. Got to see my sister and her family, and carpool to Montana and back with a really interesting character in public banking. I also took a Forex trading bootcamp and learned to trade foreign currencies.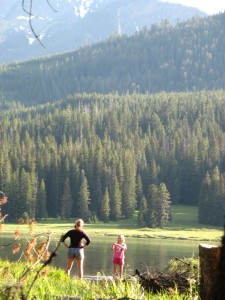 During the summer, I started dating a new and really amazing person, an Italian artist fairly new to the US who makes the incredible digital creatures/monsters for the movies. It was so fun to spend so much time in the company of an artist, pouring through art books and images together, eating yummy Italian food, and enjoying each other's company over the summer. At the end of the summer, he got his dream job with Lucas Films, and I moved out of the city to Berkeley, and we kind of went our separate ways. It was an epic, if short, romance and a real highlight of my year :-)
I had no intention of moving to Berkeley but somehow I got swept up in the need to change something after 5 years of living at the same residence in San Francisco with an extended family I had come to love dearly. I was craving more space, more stuff to call my own, an environment I could keep clean and put my stamp on. My friend and mentor, Coach Mike Hammerquist, had a room open up in his house and invited me to live there. It was a perfect fit for me and my cat of 8 years.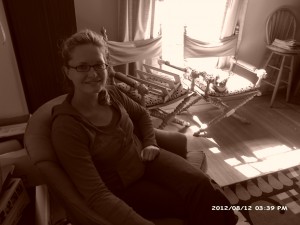 I began commuting from Berkeley to SF for work in September, and the first day using the commuter car pool we were rear-ended and I sustained my 5th whiplash injury. As a result, I got to know the limits of my health insurance plan much better, and found a wonderful chiropractor and amazing physical therapist who have nursed me back to better shape than I have been in my entire life.
I got on board for Obama again during the 2012 election year, and again was victorious. But it was during the first Obama-Romney debate that I finally had an "aha" moment (as Oprah would say), that there was something I could really do personally to make our country better. I ended up conceiving of a company that would help people get healthier on their own. It is called the Center for Public Wellness, and I will be rolling it out in the new year. It is exciting to have an idea I can put all my passion behind and I feel like it is truly my life's calling. I attended a women's political conference in Beverly Hills right after the election and got even more fired up about what women ought to be doing for our country.
I struggled a lot the last few months of the year following my car accident. Financially I was really struggling, physically my body was undergoing a lot of changes, and I made some risky health choices in that state which challenged my body quite a lot. I had to hitchhike for the first time and beg for money to get home or stay with friends. All-in-all I had a couple near-death experiences this year, some intentional and unintentional interesting chemical experiences, and learned a whole heck of a lot through it all.
I came back coaching in the fall with 8 strong and talented women coming out for the throws, my biggest and most dynamic group ever. The semester ended up being really challenging and enlightening at the same time, and I look forward to seeing what this young group of athletes will be able to do this year.
And finally, I decided to undergo a radical experiment in foot health and strength this fall. First, changing the way I walk drastically by wearing flat shoes, pushing off the ball of the foot more and aligning my feet under my hips straightforward. I ended up successfully creating arches in my feet for the first time in my life, and continued the progress by deciding to go barefoot for 30 days. 2 weeks in, I gave away all my shoes and became a convert for life, it was that awesome. It led to some adventures, such as getting booted off a couple buses and an airport, but those experiences just led into more better and profound experiences that have truly changed my life. I finally get to have the "dream job" I envisioned after high school: somehow working barefoot in a skirt. The health benefits have been really remarkable, as have been the sensations and learning opportunities embedded in this experience.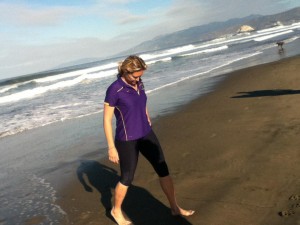 This inspired me to change a lot of other things about my life, such as getting rid of much of my chemicals and metals and coming into a more "natural" state. I went as far as growing out all my body hair, but changed my mind and decided that's where I would draw the line for now :-)
The last couple weeks I've been looking into dating again and have enjoyed spending time hiking and having tea with a doctor, believe it or not :-) Who knows what 2013 will bring!
It has truly been an epic year and I am excited to see where life will take me next year. I'm sure I left out a bunch of other good stuff too, but oh well. Cheers! And enjoy the last couple days of this era…here's to an awesome next 5,000 years.