I attended the Dia do Los Muertos in the heart of the Mission this year (Nov 2nd) for the first time. To be honest, I was a bit taken aback by how many people were there seemingly just for a party. I suppose I expected a more somber, traditional event, something I would feel slightly uncomfortable intruding upon. To the contrary, it felt more like Bay to Breakers if it were held at night and everyone painted their face to look like a skull.
I got some of the depth I was searching for in the park where the altars were erected.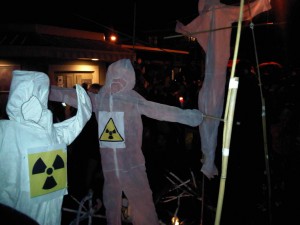 This was the first one to provoke some heavy emotion – I assumed it was meant to be an altar to the lives lost and mutations altered due to the Hiroshima nuclear disaster. I extrapolated it to be a memorial to everyone and everything lost in humankind's fairly recent exploration of chemical power. To me this means what we've lost environmentally (destroying ozone, water sources, hormonally altering animals, effects of nuclear radiation) and personally (deaths due to drugs, side-effects and deaths due to prescription medications).
The first disturbing altar I actually saw was a memorial to Steve Jobs: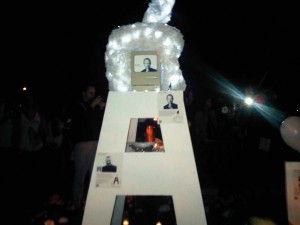 I can't explain why it was disturbing except that the altar itself really stood out amongst the backdrop of a traditional Mexican holiday as something very, well, white, and simple and technology-forward. The two contrasted so much it was hard to reconcile them both existing at the same place and time.
Another moving altar was the clusterf*** that was this altar: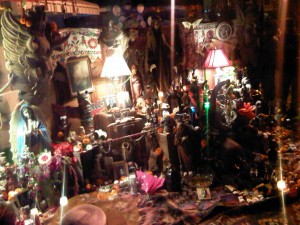 There was some kind of trancy low-frequency humming sound playing in the background and the sheer span of cultures and items in the altar brought forth a lot of emotions around tradition, culture, family, etc. It left me feeling as one person on Yelp said: "Much like dream catchers hanging from the car rear view mirror…no relevance….only stealing another culture because the culture of the U.S. is entertainment & thats why people go to this event..they have no real culture of their own."
I actually felt this loss very deeply at this event. It reminded me of how little "culture" or "tradition" I have, and how rich and deeply meaningful the traditions of other cultures are. It must feel weird for a Mexican native to have a hollow, traditionless, white, European-American help them celebrate a holiday we have no blood-connection nor memories toward.
It shows there is something to be said for staying put long enough to create something beautiful and meaningful.
But speaking of traditions, another very elegant altar honored the original Burning Man Black Rock City architect: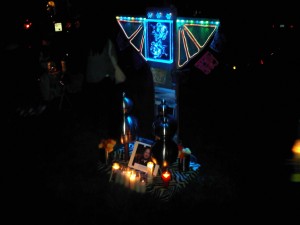 I guess this goes to show that Americans are capable of producing traditions, odd and interesting as they are!
One of the creepiest sights I saw was a mother in a long skirt and skull-painted face pushing her child on the swingset in the park in the dead of night. Really haunting!
Altogether a worthwhile experience, one of my favorite parts being a raisin tamale I bought for a dollar :-) Ay, ay, ay-ay, canta y no llores…