Yesterday evening I was driving aimlessly around Berkeley, and to my delight I discovered a beautiful Rose Garden up in the hills. You can see all my pictures by clicking here. One of my favorites was a shameless little rose exposing herself, named Las Vegas: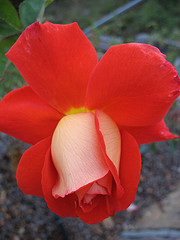 Another rose was truly aging gracefully. You can see her spots and wrinkles; she is stooped over from gravity's effects, and the ants crawl on her…but she doesn't care: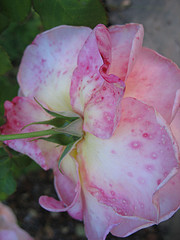 Finally, a beautiful, colorful maze of twisted branches viewed from the path around the rose garden.

The moon was so close and brilliant last night, outshining even San Francisco's city lights. I didn't have an opportunity to photograph it, but I doubt I would have captured its brilliance anyway…As I was driving away from Berkeley last night, I couldn't help but shed a few grateful tears for how good my life is. It's that good. I'm that lucky.